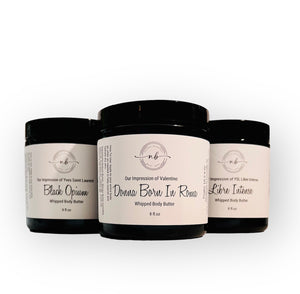 Our Luxe Body Butter is formulated with plant-based raw ingredients, including designer inspired oils, to nourish and deeply moisturize your skin. Our unique whipped body butter is easily absorbed into skin, leaving it glowing and scented. Rely on us for a luxurious skin care experience.

Disclaimer: Name trademarks and copyrights are properties of their respective manufactures and or/designers. Natural Blessings Bath & Body has no affiliation with the manufacturer and/or designer of the original perfumes. Any references to brand names are made strictly for comparison. This web site has no affiliation to and is not associated or sponsored by any of these trademark owners.  
Remember: Our fragrances are oils and not original perfumes or colognes.