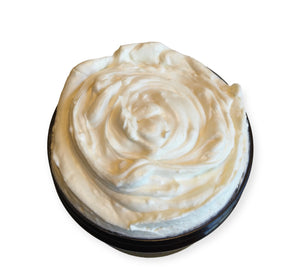 This body butter helps to deeply moisturize; yet is non-greasy and light on the skin. It has amazing skin restoration abilities. It helps in soothing dry skin conditions like eczema and dermatitis. It helps in protecting the skin from harmful UV rays and extreme weather conditions. Being a super antioxidant, it has a great anti-aging capability, which makes skin smooth, supple and even younger looking. The anti-inflammatory nature of the mango butter is beneficial for reducing skin irritations, rashes, and insect bites. 
Scent Notes: Organic Eucalyptus Essential Oil, Organic Lavender Essential Oil 
KEY INGREDIENTS:
Colloidal Oatmeal- Oatmeal naturally fights redness and skin irritation. Oatmeal soothes skin irritation and itchy rashes, such as dermatitis, eczema and poison ivy.
Mango Butter- has deep moisturizing properties. It helps to clear blemishes and reduce fine lines due to it's anti-aging properties.
Kokum Butter- Helps prevent drying of skin. Helps heal dry chapped lips. Helps regenerate skin cells and reduce degeneration of skin cells. Softens the skin and helps restore skin flexibility. Doesn't clog pores and has antioxidant properties. 
How To Use: Use daily skin moisture and night time restorative moisture. Massage all over body paying special attention to dry patchy areas. Use at night after a warm bath or shower to lock in moisture. Massage onto feet put on socks before bed. Please note that a little goes a long way. 
The Lord is my protector; he is my strong fortress. My God is my protection, and with him I am safe... ~Psalm 18:2