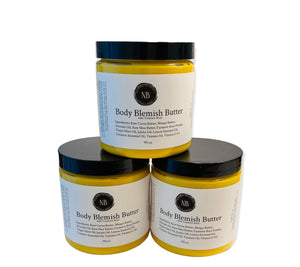 This hydrating formula helps you to maintain your skin by improving elasticity and offering a luxurious silky smooth finish that helps minimize the appearance of wrinkles, discoloration, and dark spots. 
Benefits 
* Brightens and Evens Skin Tone 
* May help reduce skin inflammation 
* Help fade acne scars 
* Deeply moisturize dry skin 
* Great for all skin types
* Lightens dark underarm  
* THIS IS A NUT BASED PRODUCT! 
Key Ingredients: 
Turmeric Root- Helps to brighten the look of dark spots. Has anti-inflammatory properties can help reduce redness and calm the skin. Also has wound healing abilities. Helps reduce acne scars. 
Tamanu- Helps smooth and softens the skin. Reduces the appearance of scars and age spots. May help with dermatitis, psoriasis, and eczema. Has the ability to aid in healing acne scars, sunburns, minor cuts, scrapes and wounds.  
Raw African Shea Butter- Helps restore the skin elasticity, helps minimize fine lines and wrinkles. May help in healing eczema, psoriasis, and dermatitis.  
Lemon Essential Oil: Helps decrease hyperpigmentation 
Licorice Root- Soothes irritated skin. Evens out skin tone. Improves the look of dark spots. 
(COCONUT OIL FREE BUTTER)
How To Use: A little goes a long way. Rub into the palms of your hand. Then spread butter all over skin paying special attention to those problem areas using circular motions until product is absorbed into the skin. Repeat as often as needed. 


This product pairs well with our Blemish Body Scrub. 
Disclaimer:
* Always patch test products before use. 
* Please consult your Physician before using new products.
* These statements have not been evaluated by the FDA. Not intended to treat, cure, diagnose or prevent any disease. Use only as directed by your health care provider.