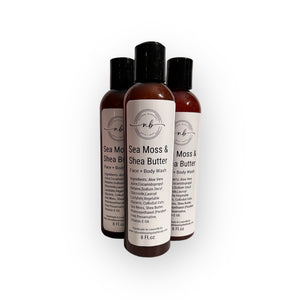 Our Sea Moss+ Shea Body Wash  is crafted with Chamomile, Shea Butter, Sea Moss, and Oatmeal, making it the perfect choice for those with sensitive skin. This wash helps to manage eczema, psoriasis, and dermatitis. Rich in vitamins and minerals, its nourishing qualities make it a powerhouse of natural ingredients. Our formula is suitable for use on both the face and body.
*Fragrance Free
Key Ingredients: 
Sea Moss- Helps soothe itchy and inflamed skin due to eczema and psoriasis. 
Shea Butter- Gently moisturizes your skin and helps reduce dryness.
Colloidal Oatmeal- Helps soothe itchy skin, inflamed skin. 


*Can be used on the face 
For I will restore health to you, and your wounds I will heal, declares the Lord.
~Jeremiah 30:17