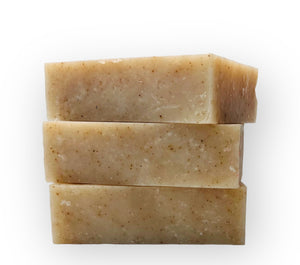 Experience the invigorating scent of Rosemary + Mint Soap. This herbal cold process soap combines rosemary and mint for a refreshing, stimulating scent, helping to improve mental clarity. It is made with natural ingredients to help soothe eczema, dermatitis, and oily skin. Plus, rosemary and mint work together to provide deep cleansing, leaving you with soft and healthy-looking skin.
Benefits:
Hair + Beard- Great for moisturizing the skin underneath the beard. Helps hair growth and itchy scalp. 
Dry Sensitive Skin: Beneficial to skin conditions such as Eczema, Psoriasis helps to eliminate flaking dry skin.
Key Ingredients:
Rosemary Essential Oil- Helps treat common skin inflammatory conditions like eczema, psoriasis, and skin itchiness. Helps clear thoughts and calms your mind.
Frankincense Essential Oil- Can help with acne breakouts and balances skin tone, helps with wound healing, restores the epidermis and calms effective areas from sunburn, rosacea while soothing and nourishing the skin. Stimulates follicles, to improve hair growth from the roots. 
Sunflower Oil- Hydrates, calms, protects and sooths dry skin. Prevents moisture loss.
Directions For Use:
Unscented Bar can be used on the face and the entire body.  Made for all skin types oily and acne-prone skin.
Create in me a clean heart, O God; and renew a right spirit within me.
~Psalm 51:10 KJV