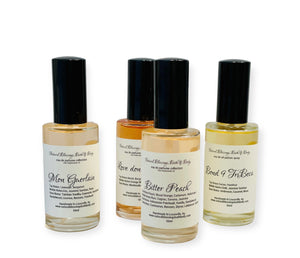 ***RESTOCK 1/23 

Enjoy designer-like quality fragrances without the designer price tag with our Perfume Sprays. Our affordable alternative offers long-lasting scents that leave you smelling great throughout the day.
Disclaimer: Name trademarks and copyrights are properties of their respective manufactures and or/designers. Natural Blessings Bath & Body has no affiliation with the manufacturer and/or designer of the original perfumes. Any references to brand names are made strictly for comparison. This web site has no affiliation to and is not associated or sponsored by any of these trademark owners.  
Remember: Our fragrances are oils and not original perfumes or colognes.