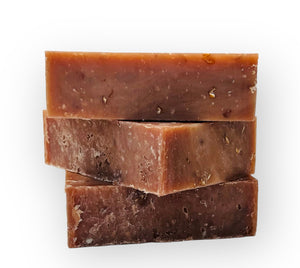 Our Oatmeal Soap is a very mild gentle soap. It is suitable for all skin types. With many skin loving ingredients it is an excellent facial bar. Plus it is great natural choice for those with eczema, psoriasis and roscea.
Oatmeal naturally fights redness and skin irritation. Oatmeal soothes skin irritation and itchy rashes, such as dermatitis, eczema and poison ivy.
*Mild soap for face and body. 

Key Ingredients: Olive Oil, Shea Butter, Goat Milk, Oats and Raw Honey
Create in me a clean heart, O God; and renew a right spirit within me.
~Psalm 51:10 KJV
Disclaimer: Please consult with a healthcare provider if you have any questions about a particular health condition. Our products are not intended to diagnose, treat, cure or prevent any disease. Our website is provided for general informational purposes and should not be considered medical advise.
FDA- These statement have not been evaluated by the food and drug administration (FDA). These products are not intentended to diagnose, treat, cure, or prevent any disease.