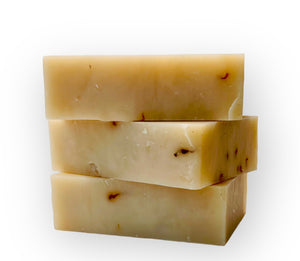 Our Calendula Soap is the ideal choice for anyone looking for a herbal remedy for their skin. Made with organic calendula herb, aloe vera, and other natural ingredients, it is a powerful healer, reducing inflammation and soothing irritated skin. It is also great for healing wounds, diaper rash, and soothing eczema.
Key Ingredients: 
Calendula- One of the most effective herbal remedies for irritated skin conditions. Soothing to sensitive and dry skin. Helps burns, cuts, insect bites, rashes, wounds and calms irritated, inflamed skin disorders. 
Aloe Vera- anti-inflammatory and antibacterial properties 
Benefits: 
* Extremely Mild Soap 
*Can be used daily on the face and body
*Great for sensitive skin Eczema, Rosacea and Psoriasis 
* Calms Irritated Skin 
*Helps acne prone skin
*Great for relieving diaper rash 
Natural Soap Tip:
Place your soap in a dish that drains this helps to ensure that the soap doesn't get wet between uses. This is optionl, but it will defiantly make your soap last longer.
Directions For Use:
Unscented Bar can be used on the face and the entire body.  Made for all skin types oily and acne-prone. 
Create in me a clean heart, O God; and renew a right spirit within me.
~Psalm 51:10 KJV