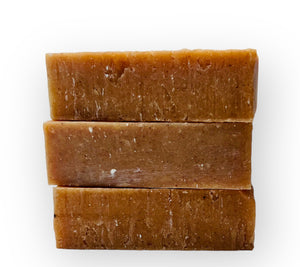 Neem Soap is a natural antibacterial and antiseptic with shea butter to help clear up skin rashes, reduce inflammation, and restore skin elasticity. It also helps protect from infections and is used as a natural repellant. It is beneficial for those suffering from dermatitis and other skin conditions.
Benefits: 
*Great for eczema, acne, and problem dry skin. 
*Natural repellant
*Anti- inflammatory
*Antibacterial 
*Helps clear up rashes and reduce inflammation 
*Can be used daily on face and body 
Key Ingredients: 
Neem Oil- helps restore skin elasticity and can help protect from infections. 
Evening Prim Rose- Helps maintain skin hydration and a natural emollient to help soften and smooth the skin. 
Shea Butter- Highly Moisturize extremely dry skin. Helps fight breakouts. Fades dark marks and scars.
Directions For Use:
Unscented Bar can be used on the face and the entire body.  Made for all skin types oily and acne-prone. 
Create in me a clean heart, O God; and renew a right spirit within me.
~Psalm 51:10 KJV