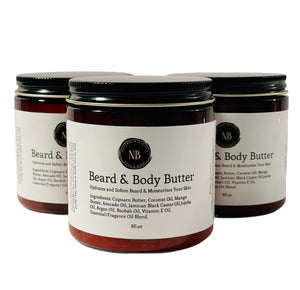 Our beard butter is a multi-purpose butter, that can be used to condition your beard and your body. This butter will not weigh your beard down nor will it leave it feeling greasy. Helps to control your beard hairs and skin's moisture. 
Benefits:
*Handmade with 100% Natural Ingredients 
*Locks in moisture 
*Controls flyaway hairs
*Keeps the beard hydrated 
*Promotes shine and softness to your beard  
*Helps reduce itch and irritation 
Ingredients Highlight:  
Cupuccu Butter: Nourishes Dry and Brittle Hair. Keeps hair moisturized while making the hair shine. Repairs the skin moisture barrier by helping improve the elasticity and firmness of the skin. Hydrates and heals cracked skin.  
How to Use: 
For Beard: Wash and cleanse beard. After drying your beard apply a small about of butter to your beard and massage in. Can be used on the body for needed moisture. 
For Body: Apply all over body paying special attention to those dry area. Use as often as needed.
The steps of the man are ordered by the Lord: And He delights in his way.
~Psalm 37:23 KJV 

PLEASE KEEP IN MIND WHEN ORDERING THIS PRODUCT
This product is sensitive to heat and will melt in the warmer months. If this happens just simply put your butter into the refrigerator for about one hour and your product will solidify. Your butter will not have the same whipped consistency, but it will still have its natural healing abilities for your skin. Please keep in mind when ordering this product, we do not accept exchanges.

Disclaimer: 
This statement has not been evaluated by the Food and Drug administration. THIS PRODUCT IS NOT INTERESTED TO DIAGNOSE, TREAT, cure or prevent any diseases.