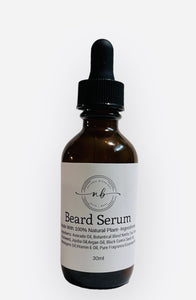 Grow and maintain a healthy, soft and conditioned beard with daily use of our natural beard oil. A blend of high quality natural oils and botanical extracts to help maintain your beard. 
Benefits: 
Reduces itch. 
Eliminates dandruff. 
Keeps beard moisturize. 
Keeps beard soft. 
Tames frizz
Heals dry. Flaky skin 
Promotes healthy hair growth. 
Ingredients Highlight:
Argan Oil: Provides conditioning and shine. Helps to treat your skin underneath your beard from dryness.
Jojoba Oil: Hydrates hair follicles to simulate thicker hair growth. Helps reduce breakage by keeping beard moisturize and soft.
Black Castor Oil: Helps thicken the beard, accelerate growth of hair follicles. Keeps beard from looking dry and rough. Heals and repairs scar tissue and helps seal in moisture. 
Hemp Seed Oil- Anti- inflammatory, Helps heal and detoxify your skin, as well as even out your skin tone. 
 *All Natural Ingredients, Vegan Friendly, Paraben Free, Sulfate Free, Cruelty Free
Use For Beard: 
Put a dime size amount in the palm of your hand, then rub into the skin under your beard. After working into skin, pull your fingers downward through your beard, apply the oil onto your beard. 


The steps of the man are ordered by the Lord: And He delights in his way.
~Psalm 37:23 KJV 
*Lightly Scented 
 30ml
Disclaimer: 
This statement has not been evaluated by the Food and Drug administration. THIS PRODUCT IS NOT INTENDED TO DIAGNOSE, TREAT, cure or prevent any diseases.